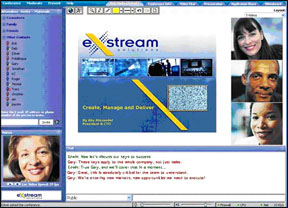 The iCON Conferencing Product Suite is comprised of three products: iCON Video Client , iCON Administrator and iCON Producer. Used together, the iCON Product Suite offers a comprehensive e-conferencing solution for three distinct user groups: the Conference participant; the Conference Administrator; and the Conference Presenter. Each individual module can be purchased as a standalone product and integrated with your existing conferencing and event management infrastructure.
I. iCON Virtual Client Features
The iCON Video Client provides the participant interface
and includes the following features:

• Browser-based Access
• Customized and Branded User Interface (GUI)
• High-Bandwidth (audio & video) and Low-Bandwidth
• (audio only) Access
• Synchronized Presentation Materials
• Interactive Table of Contents
• Live Interactive Chat w/ Instructor
• Presentation Material Print and Download Capability
• Navigation Controls (next slide, previous slide, etc.)
• Links to Reference Material
• Scrolling Transcript
• Bandwidth Meter
• Presentation Controls - Preview slides, Print functions
• Connection Testing Wizard
• Customizable Buttons (used to present web objects or alternative website resources)
• Surveys and Polling
II. iCON Administrator Features
The iCON Administrator provides the presenter and the administrator includes
the following features:
• Web-based Conference Enrollment
• Web-based Conference Administration
• Conference Security
• Email Enrollment Notification
• Email Registration Notification
• Reporting
• Pre-determined Access Privileges
• Content Management
III. iCON Producer Features
Open Learn Producer is a publishing and production tool that enables instructors to author all course elements and includes the following features:
• Web-based Authoring Tool
• Flash Introduction Upload Capabilities
• Live Video and Audio Webcast Capabilities
• Instant Video-On-Demand Archiving
• Synchronized Presentation Tools (video, audio, course material)
• Conference previewing
• Conference web publishing
• Creation of Video only and Synchronized presentation modules
• Surveys and polling
• Live chat with participants
• Alternative Web Resource Links
• Presentation Editing Tools
IV. Hosting
The iCON Conferencing application is a comprehensive hosted solution . The cost of hosting the application varies with usage.
V. Support and Maintenance
iCON Conferencing product suite includes a 90 day warranty. Yearly maintenance can be purchased at an additional cost.
Optional Services
The following additional features to the iCON product are available at additional cost.
These include:
• Studio Production
• Design Services
• Digital Rights Management
• CD-ROM Production Capabilities
• E-Commerce
• Database integration
• Real-time Application Sharing
• Custom Reporting