eXstream Solutions to showcase the power of e-learning platform HIPAALearn at the Third National HIPAA Summit.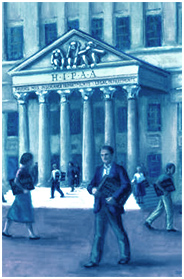 eXstream Solutions, a leading provider of multimedia E-Learning Solutions, and the HIPAA Summit Conference Series, a leading provider of Healthcare and HIPAA business conferences, have announced a joint initiative to capture and distribute select industry leading presentations from The Third National HIPAA Summit (www.hipaasummit.com). The presentations will be made available at the Summit's conclusion for free on-demand viewing at www.hipaalearn.com.
HIPAA Summit III, to be held October 24-26th in Washington DC, is the leading forum on Healthcare Privacy, Confidentiality, Data Security and HIPAA Compliance. The Summit is expected to attract over 500 industry participants and experts from throughout the healthcare industry. eXstream will capture the special "National Town Meeting: On Regulating Healthcare Privacy and Data Security - HIPAA and Beyond" to be held on Thursday, October 25, and will be broadcast through eXstream's leading multimedia based e-learning application HIPAALearn.
"We are excited to be working closely with the HIPAA Summit on this our second HIPAA conference. The response we received from the HIPAA training community following the Harvard HIPAA Colloquium in August was incredible, both from organizations in need of training, as well as from industry leading consultants who are seeking to deliver their HIPAA training content over our platform. These conferences are a great way to reach the HIPAA community and demonstrate what a powerful component online learning can be to any HIPAA training initiative. " said Lyle Deitch, Director of HIPAA training at eXstream Solutions.
"Executive education and training are evolving quickly in healthcare. New Internet and streaming technologies are making web-based broadcast and e-learning activities practical and effective. The current economic downturn and disruption in air travel make distance learning strategies even more relevant to highly technical and rapidly changing industries like healthcare. The HIPAA Summit Conference Series is pleased to be allied with, eXstream Solutions, one of the nation's leading providers of e-learning solutions, to make the Summit's content accessible to interested parties across the nation and around the world," said Peter N. Grant, J.D., Ph.D., Chair of the HIPAA Summit Conference Series.
In addition to capturing this exciting event, eXstream will also be showcasing the power of HIPAALearn in a private exhibit space, allowing visitors to demonstrate firsthand how they can utilize the power of HIPAALearn to meet their HIPAA training needs. HIPAALearn is an e-learning software and delivery platform that helps transform traditional training into a dynamic online learning experience by integrating live and instantly archived on-demand audio, video and text with collaboration tools and interactivity. eXstream Solutions is actively seeking training providers to adopt HIPAALearn as their platform for online training delivery.
For more information on HIPAALearn, please visit www.hipaalearn.com, email Adam Zotkow at adamz@exstreamsolutions.com, or call 646-495-6301.
For more information on The Third National HIPAA Summit, please call 800-684-4549, email registration@HIPAASummit.com or go to the HIPAA Summit website at www.HIPAASummit.com.