Leader in Live and On Demand E-Learning Answers Growing Market Demand in Europe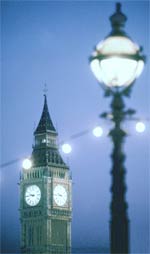 CAMBRIDGE, MA (April 29, 2002) - eXstream Solutions, Inc., a leading provider of software infrastructure and services for online learning, today announced that the company has expanded its distribution presence with a new sales and representative office located in central London, England. The new office extends eXstream's ability to acquire and manage clients in one of the fastest growing markets in Europe. eXstream established the office in the UK in response to a growing number of opportunities created by an accelerated European market need and demand for e-learning technologies.
The new eXstream office, which will be managed by eXstream Solutions' Chairman Dr. Niccol? Caderni, is located at: Garfield House - 2nd Floor, 86 - 88 Edgware Road, London W2 2EA. Tel +44 (0)20 7535 6090; Fax +44 (0)20 7535 6001; email info.Europe@exstreamsolutions.com or Niccolo.Caderni@exstreamsolutions.com.
Dr Caderni commented, "Although with different characteristics and different levels of maturity from the US market, the scenario throughout Europe is one of great interest in all aspects of online learning. Rich and engaging multimedia solutions, such as eXstream's, will find a fertile terrain in the European market, as the broadband infrastructure is gradually deployed, and demand for vital business applications, such as corporate training or shareholders communication, is growing apace.
About eXstream Solutions
A leader in delivering live and on-demand multimedia-based e-learning solutions, eXstream Solutions enables educational content providers and Global 2000 organizations to create, manage and deliver content within a virtual classroom environment. eXstream's OpenLearn product suite provides users with a more compelling online learning experience by integrating live and instantly archived on-demand audio, video and text with collaboration tools and interactivity. OpenLearn leverages robust digital media storage and delivery capabilities to manage this valuable content. As a result, eXstream's software and infrastructure transforms traditional trainings into valuable content to be delivered across the extended enterprise.
eXstream has offices in Cambridge, Massachusetts, New York City, New York and London, England.
For more information on OpenLearn, please contact:
Adam Zotkow, Director of Business Development.
E-mail: adamz@exstreamsolutions.com, or call 646-495-6301.